Introduction to the Exhibition:
Filipino textiles from the collection of
Myunghee & Peter Reimann

at the Philippine Center, Philippine Consulate General, New York
February 4-15, 2008
This is a collection of textiles from the Philippines, mainly Northern Luzon, Mindanao and a few smaller islands. All the textiles were collected locally on the islands between 1970 and 1990 by reliable persons, friends, some by my daughter, Kim.
I was able to identify most of the pieces with the wonderful book "Sinaunang Habi" by Marion Pastor-Roces, Manila 1991. I also consulted Ms. Lisa Whittal of the Museum of Natural History, New York, Department of Anthropology.
The islanders from Luzon wove their cloths predominantly from cotton, sometimes decorated with imported beads and native shells. Many of the pieces from Mindanao are made from Banana Tree or Abaka fiber, very durable materials which have a natural sheen from being pounded with wooden mallets after the fabric has been woven. The colorful dyed patterns are created by a process called "ikat," in which the yarns are dyed in tie-dyed skeins before they are threaded into the looms and woven. This collection also includes a woman's blouse made from cotton and Pineapple fiber which is unique to the Philippines.
I know from reports of visiting native Filipinos and also from Ms. Pastor-Roces, who curated an exhibit of such textiles a few years ago at NYU, that it is no longer possible to find such textiles locally in the Philippines. There appears to be no more production of such crafts. The techniques of complex dying and weaving (ikat) are practiced less and less, if at all, and will possibly be lost.
I believe it is not only desirable but necessary to show a larger public, including local Filipino natives and their Americanized offspring the wonders of Filipino culture and textile-crafts which are exclusively woven by women.
Finally, I would like to thank Paul Cormack for curating this exhibition.
Peter Reimann
January 2008
all text & images © the Reimann family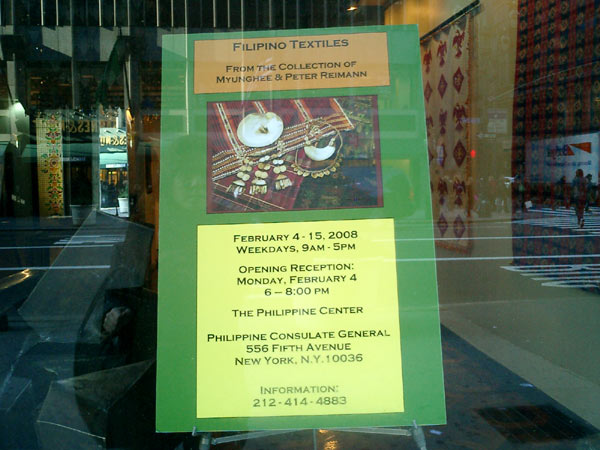 Paul Cormack is a fashion designer based in New York City. He is also a painter and has previously curated art shows. Born in Australia, he moved to New York in the 1970s where he has lived and worked since. Click on thumbnail to go to enlargement of image.
Peter Reimann is a retired physician living in Springfield, New Jersey. Dr. Reimann is a native of Berlin, Germany, and an enthusiastic admirer of tribal art and Asian art. Together with his late wife Myunghee Kim, he has collected textiles from all over the world as well as many other types of art and artifacts. In addition to this collection of Filipino textiles, he has collected textiles from other parts of Southeast Asia, Japan, Afghanistan and South America. Contact Dr Reimann.
this page last updated 23 April, 2008