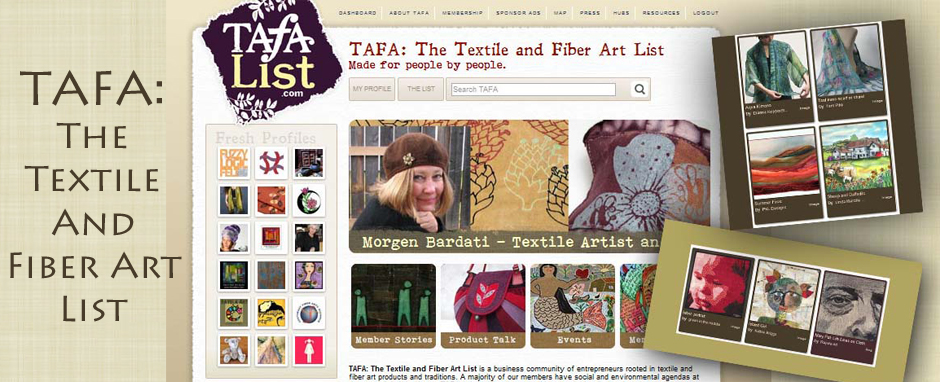 Greetings! I run a website organization called TAFA: The Textile and Fiber Art List. I've approached many of you to join us as members and thought it would be good to explain a bit here about what I am trying to do. Here is the site:
http://www.tafalist.com
For about 20 years I bought and sold ethnic textiles from many different small importers and traders and would re-sell them through various outlets. I had a shop, then a gallery in Chicago for most of that time and got in early on selling on eBay when it was still small. For the last several years, I have had a shop on Etsy, sorely neglected now because of my latest project, TAFA.
I also sew and worked with clay for three years and have many artist friends. As my interests zoomed in on textiles, I found it frustrating that the contemporary and ethnic textiles are kept isolated from each other, literally, worlds apart. And, most of the textile and fiber art organizations also keep to their specific interest. It makes sense, but I felt there was a need to bring them together into one place where quality work could be found that represented both.
I launched TAFA in 2010 on a blog and the first to jump in were art quilters. Now there are also a lot of felters and weavers, along with other types of work. And, there is a nice core group of members who work with village textiles in different countries. I would like to see that grow and become a strong presence on the site.
There are two types of the village textiles that are of special interest: fair traders (used in a broad sense to include anyone who is trying to help generate income for the producers) and vintage dealers. With the vintage ones, I look for collectors, authors, galleries, etc. who not only have quality textiles, but who are also working to promote the cultural importance of these pieces. All of what we do today references what came before us in some way. It is important to preserve these pieces, to study them, be inspired by them and to learn about the people who made them.
The general criteria that I use for all members (they are vetted in by me) includes having a professional web presence, good photography, and a business focus. I look at how this member will fit in with the others, what contributions they bring with their work, if it is environmentally and culturally sensitive, etc.
One of my larger goals is to see a bridge built between the then and now, between cultures and innovation. We all inform and inspire each other, but even more importantly, it all comes down to markets and money. I would like to see a more level playing field happen in how we treat the ethnic textiles, how we value them and how they are priced in the market. We call a weaver from New Mexico an artist, but a weaver, who may be more talented and knowledgeable from Guatemala is a producer or an artisan and gets a fraction of the price for equal or superior work. It might take several years for this change to happen yet, but I believe that TAFA can narrow that divide and broaden the discussion and help move things in that direction.
So, I am looking for more members who work with ethnic textiles, both old and new. There is a $75 fee to join TAFA which basically pays for space on the site. There are many more things that I want to develop on the site, but it will happen over time. If you are interested in joining, go to the membership page and follow the instructions there:
http://www.tafalist.com/membership
The best way to see who is on the site is to look through the Member List:
http://www.tafalist.com/members
We have 150 members who still have not set up their member profiles, but slowly they are getting up there.
Feel free to ask questions or comment here and I'll be happy to explain more.
Rachel Biel
TAFA Founder
We have an active Facebook page, so you are welcome to take a look and follow us there, too:
http://www.facebook.com/TAFAList